News & Topics
May 01, 2018
The Kyoto Headquarters of ARKRAY, Inc. has move into the Kyoto Laboratory building at the traditional Japanese-style garden of Yousuien.
ARKRAY Global Business, Inc. has also been moved into Kyoto Laboratory.

Yousuien-nai, 59 Gansuin-cho, Kamigyo-ku, Kyoto 602-0008, JAPAN
TEL: +81-50-5830-1000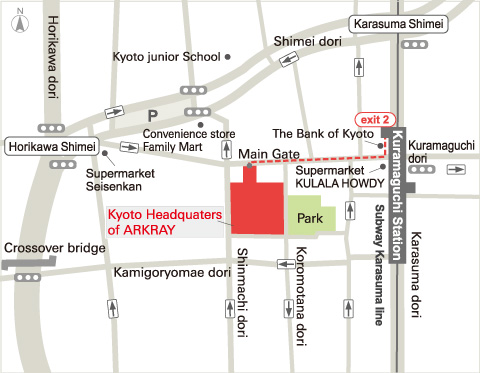 ■ Directions to Kyoto Laboratory
5-minute walk from Exit 2 of "Kuramaguchi" station, Karasuma line, Kyoto Municipal Subway.
Parking is available in front of the main entrance.∗
∗If you drive to Kyoto Laboratory, enter Kuramaguchi street from the Horikawa Shimei intersection since Kuramaguchi street runs one way from west to east.
∗Date of relocation: May 1st, 2018