HIV Treatment and Long-Term Side Effect
Introduction
Antiretroviral therapy (ART) is a combination of antiretroviral drugs used to reduce the rate at which Human Immunodeficiency virus (HIV) multiplies within the body. ART, on the other hand, increases the risk of developing chronic kidney disease (CKD) or chronic liver disease (CLD). That is why routine monitoring of these two organs is very important. [1][2]
HIV patients who receive ART in 2020 (%)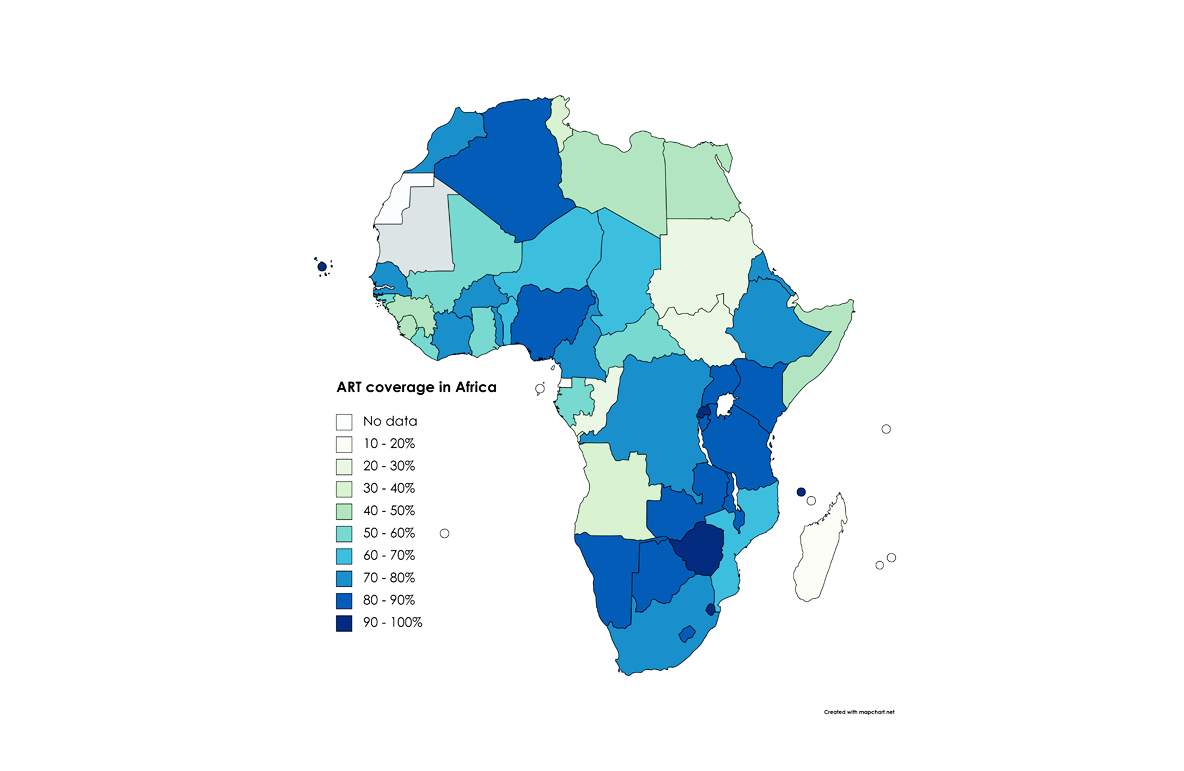 By the end of 2020, 76% of people living with HIV had access to ART, up from 24% in 2010. [3]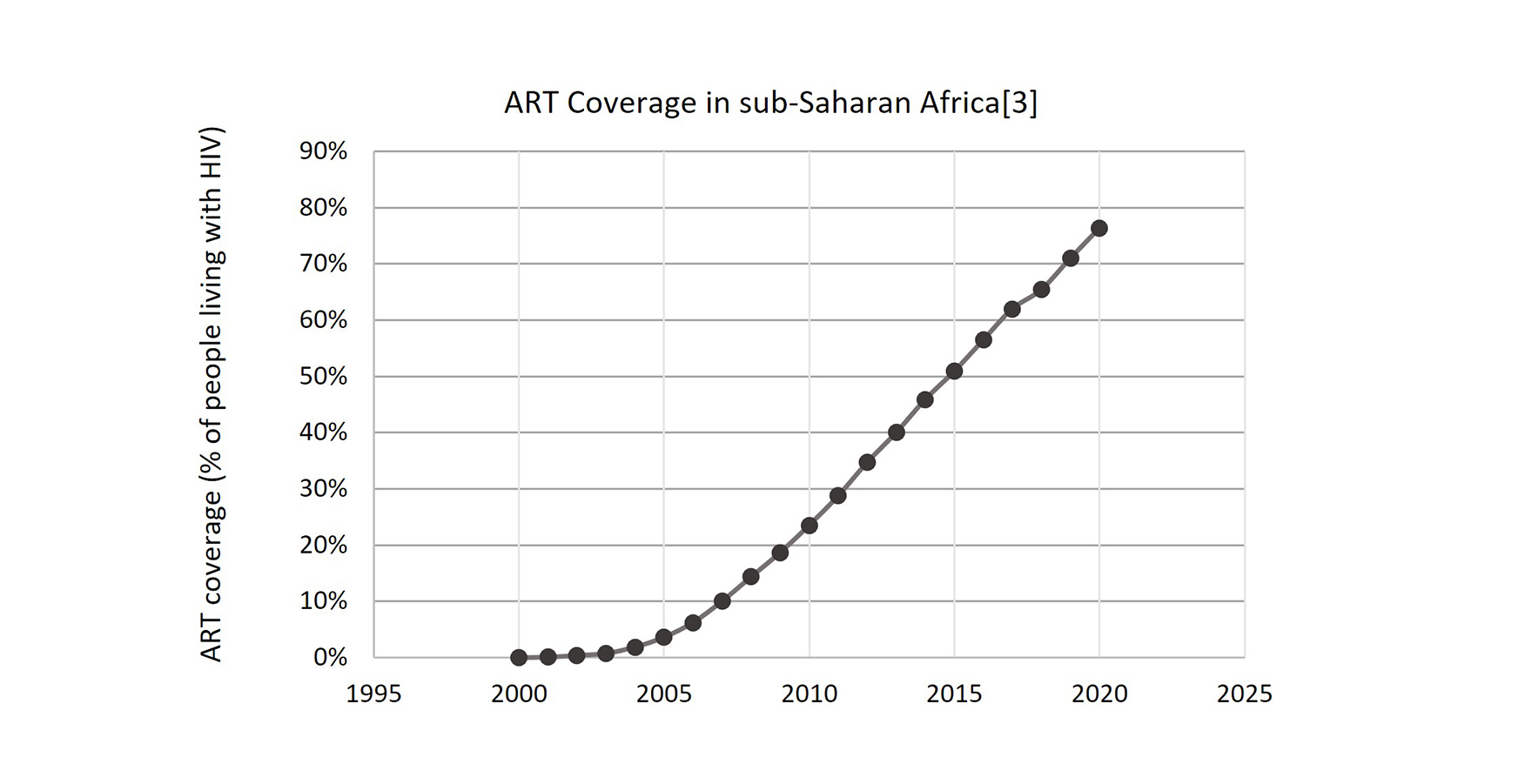 The graph shows the rise in percentage of ART coverage in sub-Saharan African countries from 2000–2020. [3]
HIV Treatment & Long-Term Side Effect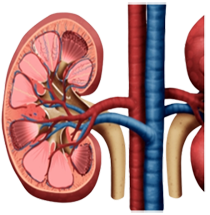 Kidney Toxicity

Kidney and metabolic issues are often associated with ART. [4]
ART leads to a decreased estimated glomerular filtration rate (eGFR), therefore leading to CKD. [5]

Dialysis or a kidney transplant may be necessary for the treatment of people with end-stage kidney disease. [6]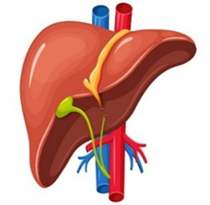 Liver Toxicity

Hepatotoxicity is one of the most common side effects of antiretroviral (ARV) drugs. HIV patients are more likely to develop liver disease, with CLD being amongst the most prominent. CLD patients have high serum levels of aminotransferases (ALT and AST), among others. [7]

To detect hepatotoxicity at its earliest stage, routine monitoring of liver enzymes is essential throughout the course of treatment. [8]
Cost and availability of hemodialysis in sub-Sahara Africa: The case of South African
According to studies conducted in South African hospitals, hemodialysis in 2019 cost US$ 31,993 per patient, up from US$ 25,888 in 2012. [9] This meant that the cost ranged between US$ 540 and US$ 670 or more per week. Depending on how many dialysis treatments were needed each week, the average cost of dialysis was between US$ 2,157 and US$ 2,670 per month. On the other hand, the average monthly cost for renal function tests and liver function tests is only US$ 35. [10]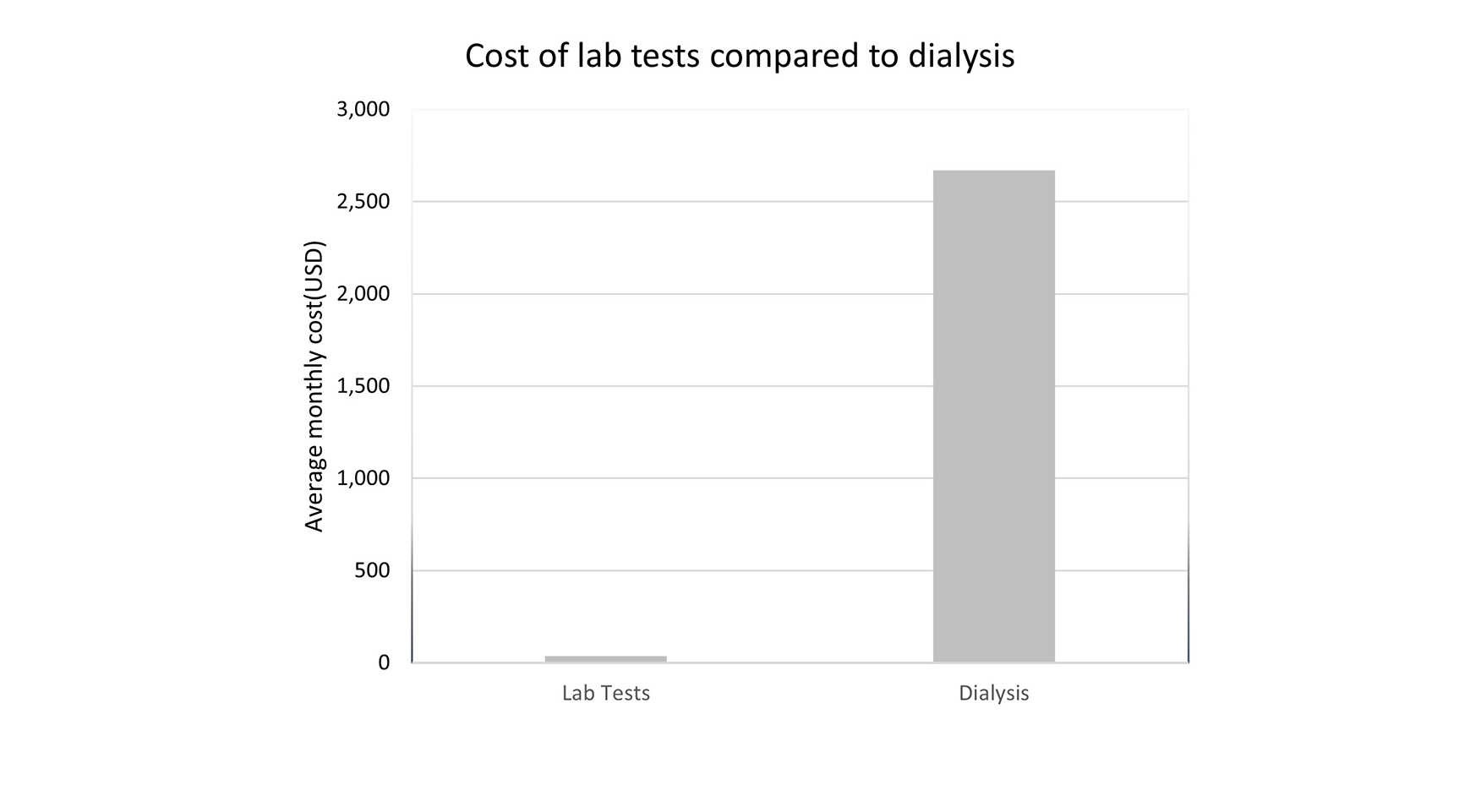 Standard for HIV Testing and Linkage to Treatment[11]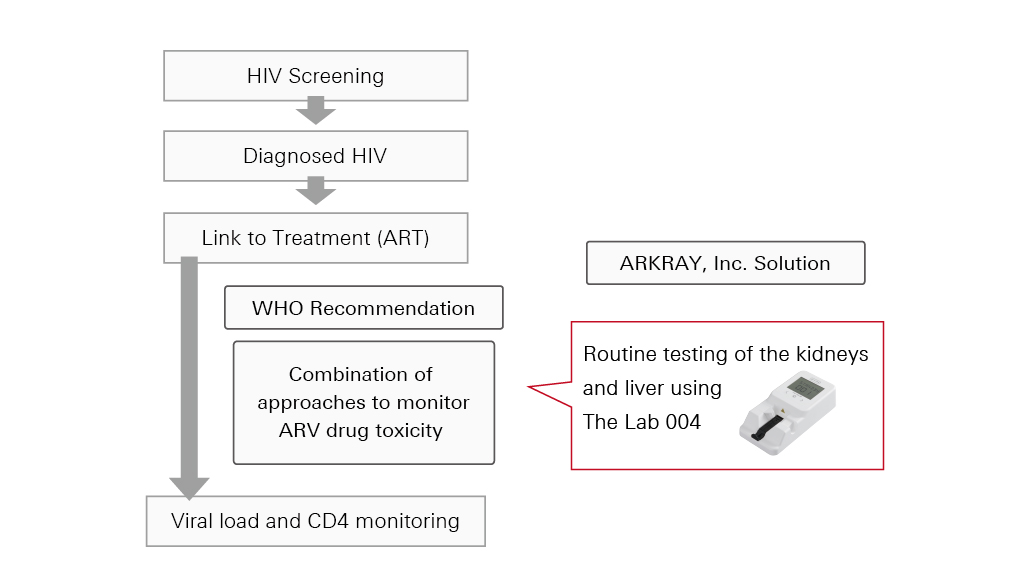 This figure shows the standard approach to HIV testing and treatment, including the WHO recommendation for monitoring drug toxicity and the ARKRAY, Inc. solution. [11]
Primary Health Care (PMC) and Universal Health Coverage (UHC)
While UHC mainly focuses on having access to affordable high quality healthcare services, PHC focuses on having the right care at the right time. The biggest challenge to achieving UHC is health care funding. Chronic health diseases, including CKD and CLD, are examples of conditions that not only have expensive and crippling effects on patients but also have significant financial implications due to reduced productivity and work participation. That is why, through routine testing of the kidney and liver, we can prevent the complications of ART before it is too late, thereby avoiding expensive medical treatments and procedures like dialysis or kidney or liver transplants. [12]
ARKRAY contributes to UHC and PHC by providing quality medical equipment.
Challenges in routine medical testing in Africa
The majority of rural areas encounter multiple challenges that make it difficult to do standard medical tests. Some of these problems include;
Lack of medical devices
Shortage of technical staff, for example, lab techs and nurses
Lack of stable water supply
The whole reagent bottle is opened, even when only a few patients need testing, resulting in unnecessary waste of reagents.
Unstable power supply
Lack of space to install large analyzer in remote area
The Lab 004 Dry Chemistry analyzer
The Lab 004 is most suited for use in healthcare facilities or hospitals in remote areas with limited resources.
Featured tests: ALT (GPT), AST (GOT), BUN, CA, CRE, UA
Low cost and suited for resource-limited settings
Simple to calibrate and use
No need for water supply
Test strips are packaged individually to maintain reagent integrity, thereby reducing unnecessary waste of reagents.
Mobile battery is available
Portable Size: A5 paper size and weighs less than 1 kg
Sources
[1] HIV Treatment: The Basics(HIVinfo.NIH.gov)
https://hivinfo.nih.gov/understanding-hiv/fact-sheets/hiv-treatment-basics
[2] Ueaphongsukkit, T., Gatechompol, S., Avihingsanon, A. et al. Tenofovir alafenamide nephrotoxicity: a case report and literature review.AIDS Res Ther. 2021 21;18(1):53.
[3] HIV / AIDS (Our World in Data)
https://ourworldindata.org/hiv-aids
[4] Calza L. Renal toxicity associated with antiretroviral therapy. HIV Clin Trials. 2012 ;13(4):189-211.
[5] Obiri-Yeboah, D., Awuku, Y.A., Alofa, W. et al. Renal dysfunction among adult HIV/AIDS patients on antiretroviral therapy at a tertiary facility in Ghana.BMC Nephrol. 2018 21;19(1):333.
[6] Dialysis (NATIONAL KIDNEY FOUNDATION)
https://www.kidney.org/atoz/content/dialysisinfo
[7] Benedicto AM, Fuster-Martínez I, Tosca J. et al. NNRTI and Liver Damage: Evidence of Their Association and the Mechanisms Involved. Cells. 2021. 4;10(7):1687.
[8]Segamwenge IL, Bernard MK. Acute Liver Failure among Patients on Efavirenz-Based Antiretroviral Therapy. Case Reports Hepatol. 2018. 10;2018:1270716.
[9] Malatji TA, Wamukuo J, Hyera FLM. An analysis of the direct cost of renal dialysis provided through a public-private partnership at a tertiary hospital in Limpopo Province, South Africa. S Afr Med J. 2019. 26;109(8):577-581.
[10] Kidney Function Test- Types, Procedure, Cost, And FAQ (TESLA Scans & Healthcare)
https://teslascans.com/kidney-function-test/
[11]Consolidated guidelines on HIV prevention, testing, treatment, service delivery and monitoring: recommendations for a public health approach(World Health Organization)
https://www.who.int/publications/i/item/9789240031593
[12] Universal health coverage (World Health Organization)
https://www.who.int/news-room/fact-sheets/detail/universal-health-coverage-(uhc)
AG230710-02