For utilization in detecting side effects of the novel coronavirus and anti-cancer drugs
ARKRAY to start sales of fully automated gene analysis instruments
Completes sample pre-treatment, analysis, and determination on a single unit
ARKRAY Co., Ltd. (headquarters: Kamigyo-ku, Kyoto, hereinafter "ARKRAY") will begin sales of geneLEAD VIII, a gene analysis instrument manufactured and sold by Precision Systems Science Co., Ltd. (headquarters: Matsudo-shi, Chiba, hereinafter "PSS") on August 4, 2023 (Friday). As the successor model to ARKRAY's i-densy IS-5320 (herein after, "i-densy") gene analyzer, geneLEAD VIII can be used for various purposes, including testing for infectious diseases such as the novel coronavirus, genetic testing prior to administration of anticancer drugs, and somatic cell genetic testing to examine genetic mutations in cancer cells.
The gene analysis instrument, geneLEAD VIII of PSS, to be released by ARKRAY, has been used by a wide range of medical institutions both domestically and internationally since its launch in 2020. This product will be available on Friday, August 4, 2023, as the successor model to "i-densy", a gene analysis instrument that ARKRAY has sold since 2012.

Gene analysis is becoming increasingly prevalent along with the growth of personalized treatment (tailor-made treatment), which provides treatment customized to each patient's constitution of health and the characteristics of their illness. Testing for innate genetic specificity through gene analysis can help predict drug efficacy and side effects prior to drug administration. In addition, the confirmation of acquired genetic mutations such as cancer, can guide the diagnosis and selection of appropriate therapeutic drugs according to the cancer type. Determining appropriate drugs according to the constitution of health and cancer type of the patient is expected to not only reduce side effects, but also to contribute to the reduction of medical costs.
The "geneLEAD VIII" is a fully automated gene analysis instrument, covering from extraction and purification to analysis of nucleic acids (DNA/RNA). By performing genetic analysis quickly and effortlessly, this instrument can be useful in the medical field where quick decisions must be made.
Product Features
〇Expansion of testing items
In addition to the dedicated reagents for detecting the novel coronavirus, products such as "i-densy Pack UGT1A1(*28/*6)", an in vitro diagnostic reagent for testing drug metabolizing genes to predict side effects of anti-cancer drugs, and "i-densy Pack UNIVERSAL," a research reagent to meet various genetic testing needs, may be used.
The product line will continue to expand to meet the measurement demands of a variety of clinical departments.
〇Automating all complex genetic testing processes
Through full automation, measurement is possible by simply setting samples (such as blood, tissue, and pathological samples) without requiring advanced operational techniques.
A single unit can perform from "(1) extraction and purification of nucleic acids (DNA/RNA) from collected samples" → "(2) amplification of nucleic acids by PCR method" → "(3) gene analysis".
〇Nucleic acid purification function prior to amplification
Prior to amplification by the PCR method, "extraction" of nucleic acids from inside the cell to the outside of the cell and "purification" to remove coexisting proteins, enzymes, etc. are necessary. The "geneLEAD VIII" also automatically processes the extraction and purification of nucleic acids with its nucleic acid purification function. The purification process improves subsequent amplification efficiency.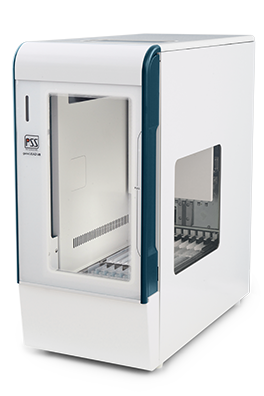 Gene Analysis Instrument
geneLEAD VIII
ARKRAY will continue to contribute to the diagnoses and treatments in the medical field through the ongoing provision of products and proposal of operations to satisfy the demands of medical institutions.
Product overview
Name
Gene Analysis Instrument geneLEAD VIII
Release date
Friday, August 4th, 2023
Specification
Instrument type
Benchtop type
Dimensions
Approx. 350 (W) x 700 (D) x 770 (H) mm
Weight
Approx. 80 kg
No. of sample
1 to 8 samples (batch processing)
Processing time
90 to 120 mins (depending on the item)
Thermal control function
PCR unit: 40 to 98°C (8 Independently controlled thermal cyclers)
Nucleic acid extraction unit (heat block): 65 to 80°C
Sample volume
200 µL / 400 µL
Elution volume
50 µL / 100 µL / 200 µL
Total PCR volume
20 to 50 µL
Detection system
6 fluorescence detection
Power source
AC100 to 120 V +/- 10%, AC200 to 240 V +/- 10%
Frequency
50 / 60 Hz
Max. power consumption
400 VA
Sales price
Preferred delivery price: 9,000,000 yen (before tax)

Medical device notification no.
12B3X00033000006
Classification
Class I (general medical devices) / Specific Maintenance Medical Device
This product is manufactured by Precision System Science Co., Ltd. and jointly sold by ARKRAY Marketing Co., Ltd.
"ARKRAY Marketing, Inc." is ARKRAY's distributor in Japan.