The urine analyzer for animals automatically gives the urine protein-creatinine ratio of dogs and cats.
Displays urine protein-creatinine ratio (UPC) in five rankings
Screening proteinuria is possible without being affected by dilution or urine concentration. UPC has a strong correlation with gross protein discharge. IRIS (International Renal Interest Society)* introduced the evaluation systems of kidney diseases according to stage classification, which indicates the highly valued significance of measuring UPC.
* Reference: IRIS Staging of CKD
Device and reagent for animals
Measurement is possible in two modes (dogs and cats), which can be switched easily before measurement.

Streamline work by saving steps
Performing a visual inspection with this instrument saves the manual work required for testing. Printed test results can be pasted onto a pet's health record to explain to a pet owner.
Palm-sized meter
Printer is detachable from the meter, increasing mobility inside clinics or for doctor's visits.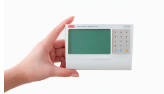 Multiple functions
The small body is packed with features such as colored urine correction and temperature correction.
Easy operation and maintenance
The operation is simple. Just press the start key and place a test strip on the meter. Maintenance work is also reduced.
Meter specifications
Sample
Urine

Target animal type

Dogs and cats

Measurement principle

Test strip: Dual wavelength reflectance method
(one wavelength for BLD measurement)
Measurement wavelengths
Three LED wavelengths
(565, 635, 760nm)
Sample application method
Manual dipping
Measurement capacity
50 tests per hour
Compatible test strips
Urine test strips dedicated to Urine Analyzer thinka
Reaction time
Approximately 60 seconds per test
Display
Custom LCD
Memory capacity
100 test results
External output
Compliant with RS-232C
Measurement environment
Temperature: 10 to 30°C, humidity: 30 to 60%RH (non-condensing)
*Temperature compensation function used.
Dimensions
124 (W) x 81 (D) x 36 (H) mm
Weight
180g (without batteries)
Printer specifications
| | |
| --- | --- |
| Printer | Thermal recording printer |
| Printer paper | High color development thermal paper (W58 mm × Ø26 mm) |
| Dimensions | 125 (W) x 133 (D) x 36 (H) mm |
| Weight | 180g (without printer paper) |
| Power supply | AC adapter 7.5V 3A |
| Power consumption | 20W |
| Attachment | One-touch attachment |
| Connection | Contact |