"Quiet and accurate" measurement with its unique measurement method
Model change of a long-selling osmometer
Enhancement of accuracy control functions required for ISO15189
On Friday, August 4, 2023, ARKRAY, Inc. (headquartered in Kamigyo-ku, Kyoto City, hereinafter referred to as ARKRAY) will launch the "OSMO STATION 2 OM-6070", an osmometer to measure the osmotic pressure of body fluids, including serum, plasma, and urine. As a remodeled model of the existing "OSMO STATION OM-6060" model, it maintains the "quiet and accurate" features of the "freezing-point depression method using ultra supercooling" measurement, a proprietary technology, and improves operability with a touch screen display. In addition, we have enhanced the accuracy control function required for ISO15189* quality management system, for which an increasing number of facilities have recently acquired certification. Even in the midst of busy laboratory operations, more accurate and precise measurements can be achieved through less time-consuming accuracy control.
The new osmometer "OSMO STATION 2 OM-6070," which will be launched by ARKRAY, has improved operability and accuracy control functions through a model change, while maintaining the high basic performance of the existing model "OSMO STATION OM-6060." Two types are available: a space-saving rack specification (max. 5 samples) and a turntable specification (max. 24 samples) that enables measurement even with sample tubes.
For 15 years since its release in 2008, ARKRAY's existing model, which employs the independently developed and patented measurement principle of "freezing-point depression method using ultra supercooling" has been used in many clinical scenes. The new model, "OSMO STATION 2 OM-6070," is installed with a touch screen, which has been requested by many users, for improved usability and visibility. In addition, the system has an accuracy control and QC lockout function using a dedicated control solution, making it useful for compliance with ISO 15189 quality management systems.
ARKRAY will continue to develop and provide products that contribute to improving the efficiency of laboratory operations and the reliability of data, in order to support medical practices from every possible angle.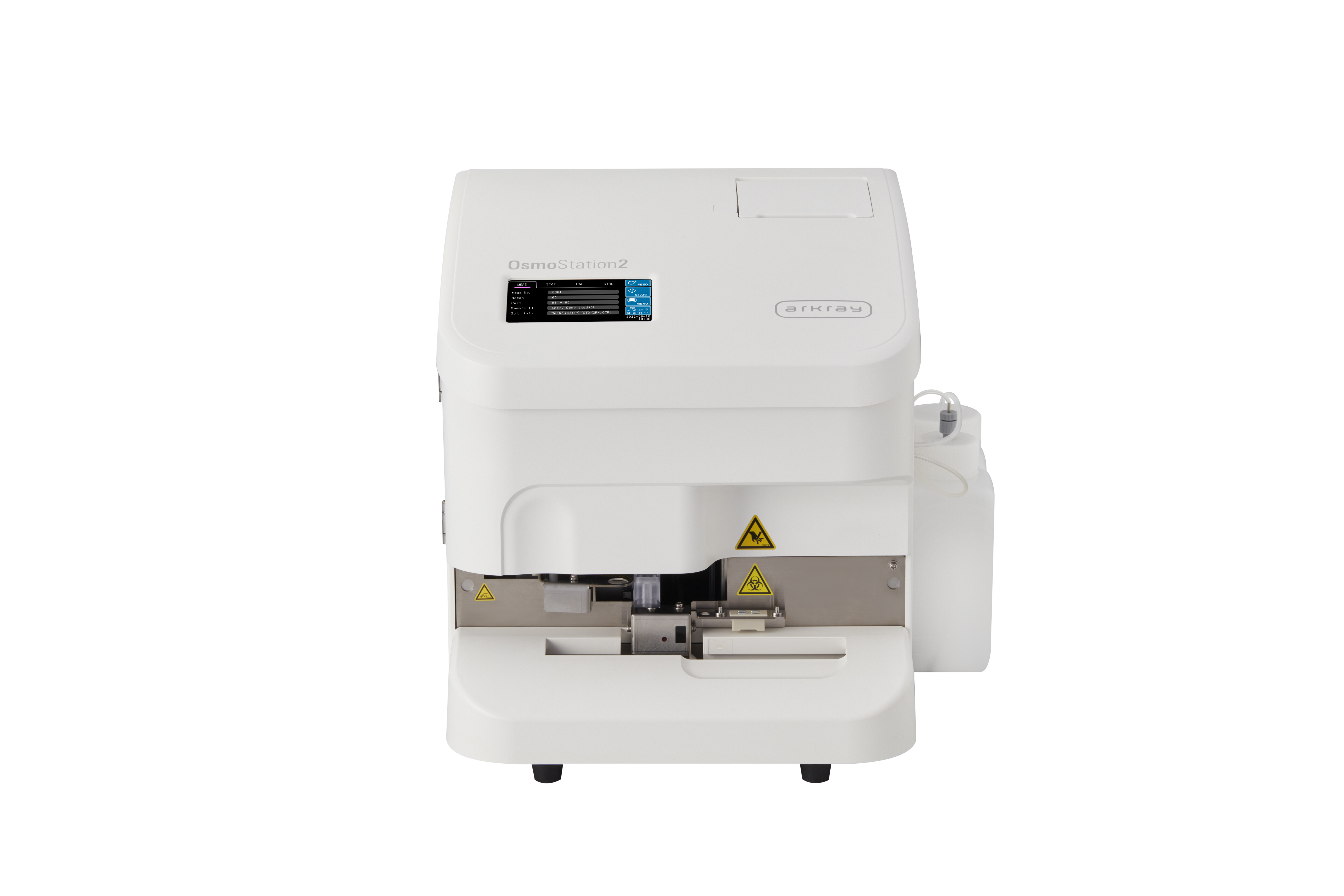 <Rack Specification>
Continuous measurement of up to 5 samples
Compact design for space-saving use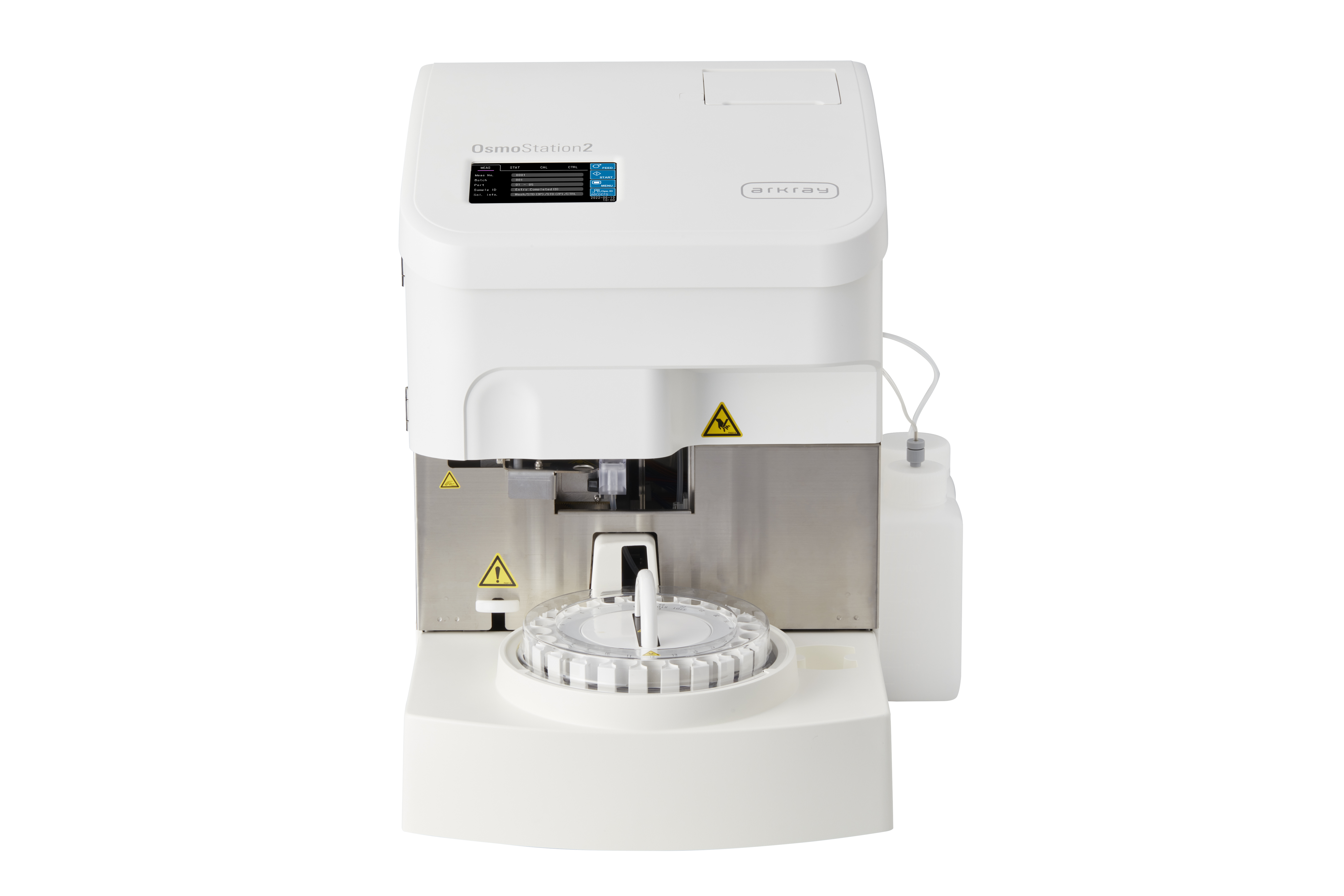 <Turntable Specification>
Continuous measurement of up to 24 samples
Measurement with sample tubes is possible.
Product Features
◯Enhanced accuracy control functions
The dedicated control solution, which does not require concentration adjustment and can be stored indoors, has been well received in existing models for its easy accuracy control. With the aim of improving the usability in this model change, we have added new functions by incorporating the opinions of users.
- QC Lockout Function
Using the QC lockout function, sample measurements will be restricted if control measurements are not made within the set time limit. This contributes to thorough accuracy control so that accurate measurement results are always obtained.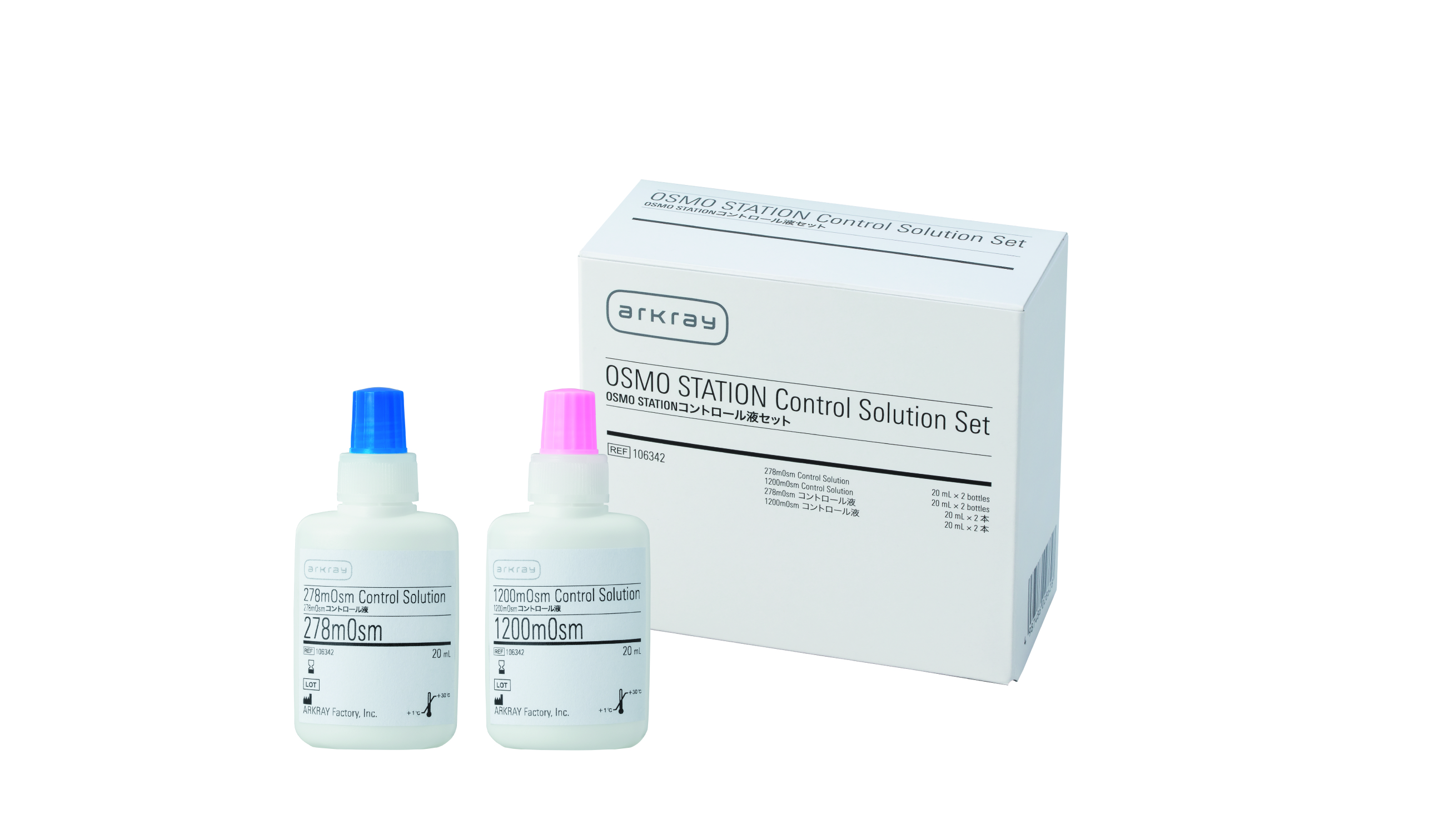 (Sold separately) OSMO STATION
Control solution set
- Operator ID function
The measurer ID will be recorded in the measurement results. It is also possible to set restrictions on the functions used by each measurer.
◯Improved usability with touch screen display
Intuitive operation is possible with the 4.3 inch color touch screen. Functionality has also been improved, such as simplified management of measurement and calibration results within the instrument.
◯Easy maintenance
In the "freezing-point depression method using ultra supercooling," cooling is performed by the electronic cooling unit. Maintenance is also hassle-free, as antifreeze and other fluids do not need to be replaced.
Significance of osmotic analysis
By measuring the osmotic pressure in body fluids, it is possible to estimate the homeostasis of biological functions. By measuring the osmotic pressure of urine and plasma, it is possible to detect abnormalities in the kidneys and hormones.
Measurement principle
◯Freezing-point depression method using ultra supercooling
Freezing-point depression method is said to be the most reliable method of osmotic pressure measurement. The general method has the disadvantage that it is unsuitable for precision measuring instruments because it applies physical vibration to cause freezing, which often results in failures of the instruments. With the "freezing-point depression method using ultra supercooling" developed by ARKRAY, only a portion of the sample is frozen by "supercooling stimulation," in which the sample is cooled rapidly, and the osmotic pressure is calculated from the freezing temperature. Since there is no physical contact during measurement, the measurement noise is low and instrument failures are rare.
Terminology
*ISO15189
ISO15189, an international standard for assuring the quality of medical testing, provides detailed guidelines for clinical laboratories. It consists of two parts: "Quality Management System Requirements" and "Medical laboratories — Requirements for quality and competence" with the former including items on accuracy control.
Product overview
Name
Osmometer, OSMO STATION 2 OM-6070
Release date
Friday, August 4th, 2023
Specifications
Rack specification
Turntable specification
Measurement
subject
Serum, plasma, urine
Measurement item
Osmotic pressure of body fluid (osmotic pressure ratio)
Measurement
principle
Freezing-point depression method using ultra supercooling
Measurement
range
0 to 2000 mOsm (switchable range: 0 - 2500 mOsm)
Required sample
volume
Sample cup: 200 μL or more
Sample cup: 200 μL or more
Sample tube: 2mL or more
Measurement time
Approximately 2 to 3 minutes per sample
Number of samples
installed
Up to 5 samples
Up to 24 samples
(Urine sample tube turntable: up to 10 samples)
Calibration method
3-Point calibration (0, 300, 1000 mOsm: Polygonal line approximation), 2-Point calibration (Any 2-Point: Logarithmic curve approximation)
Memory capacity
For 500 measurements
Display screen
4.3-inch color touchscreen-mounted LCD
Built-In Printer
58 mm width thermal printer paper (24 digits)
External output
Compliant with RS232C, Ethernet (optional), USB (data-output only)
Measurement
environment
Temperature: 10 - 30℃, Humidity: 20 - 80% (No condensation)
Power
consumption
Max 160VA
Power supply
voltage
AC 100 - 240V, 50/60 Hz
External
dimensions
320 (W) x 355 (D) x 348 (H) mm
320 (W) x 460 (D) x 448 (H) mm
Weight
Main unit: 17 kg,
Sampler unit: 2 kg
Main unit: 22 kg,
Turntable unit: 3 kg
Sales price
Preferred delivery price JPY 3,300,000 (excluding tax)
Preferred delivery price JPY 4,900,000 (excluding tax)
Notification of manufacture and sale
25B1X00001000062
Classification
Class I (General Medical Devices)/Specially Designated Maintenance and Management Required Medical Devices
This product will be sold through "ARKRAY Marketing, Inc." and "ARKRAY Infinity, Inc."
Sales to hospitals are conducted by "ARKRAY Marketing, Inc." and sales to clinics and companies are conducted by "ARKRAY Infinity, Inc."
*"ARKRAY Marketing, Inc." is ARKRAY's distributor in Japan.
*"ARKRAY Infinity, Inc." is mainly engaged in the maintenance and inspection of ARKRAY's device sold in Japan.